Despite global economic uncertainty, Sharia-compliant banks continue to enjoy wave after wave of success. The World Finance Islamic Finance Awards celebrate the best players in this flourishing industry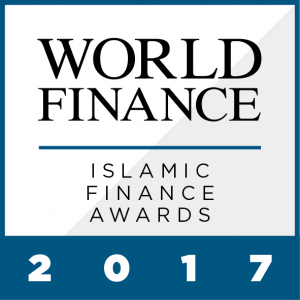 Yet in the midst of this instability, one area of banking has continued to thrive: Islamic finance. The sector has expanded rapidly over the past decade, in line with demand for Sharia-compliant services and products. Between 2000 and 2016, Islamic banks' capital grew from $200bn to an incredible $3trn, with this figure expected to reach $4trn by the early 2020s. Now expanding at an annual rate of 19.7 percent, this market's growth far outpaces that of conventional banks, putting pressure on traditional financial institutions to diversify by offering their clients Sharia-compliant services. With a surge of interest among consumers from non-Muslim-majority countries, the Islamic banking market is showing no signs of slowing down.
More than half of Islamic banks are in the process of investing between $5m and $20m in new digital initiatives
Staying competitive
There are now more than 300 exclusively Islamic banks across the globe, with Sharia-compliant institutions popping up everywhere from Kuwait to Luxembourg. As a wave of new competitors floods the Islamic finance market, established Sharia-compliant banks are reassessing their strategies in order to remain on top of the industry. While conventional banks have undergone a digital revolution in recent years, their Islamic counterparts have so far been slow to grow their online presence.
However, this now looks set to change. According to a recent EY survey, more than half of Islamic banks are in the process of investing between $5m and $20m in new digital initiatives. This digital drive is particularly crucial in the GCC region, which boasts a large youth population. Among these tech-savvy young people, smartphone usage has reached a staggering 98 percent, but 46 percent of consumers still find mobile banking difficult to access. With the Islamic digital banking experience falling short of customer expectations, Sharia-compliant banks must enhance their levels of consumer engagement if they wish to truly rival their conventional competitors.
As consumers begin to demand flexible, on-the-go banking as standard, Islamic banks are beginning to realise that merely being Sharia-compliant is no longer enough. Indeed, EY data shows a direct correlation between the customer's digital experience and the bank's revenue, and also reveals that 81 percent of Islamic bank customers would prefer to switch to a digitally stronger bank. With up to 50 percent of Islamic banks' net profit at stake over this online issue, there is a strong financial incentive to speed up the digitalisation process in 2017.
Investments driving growth
Over the past two years, 'sukuk', or Islamic bonds, have experienced a slowdown in their previously impressive growth. This can largely be attributed to the global drop in oil prices, combined with concern over interest rate hikes. Just as high interest rates make conventional bonds less attractive to investors, the same is true for sukuk. Given that many GCC economies are pegged to the US dollar in order to avoid currency fluctuation, the Federal Reserve's anticipated rate rises will have a significant impact on sukuk trading.
As markets prepare themselves for three expected interest rate hikes in 2017, it may be some time before sukuk return to optimal performance. Indeed, as President Trump shapes up to be fiscally hawkish, higher interest rates may well become a feature of US monetary policy over the next four years.
Where sukuk have struggled, however, Sharia-compliant investments have continued to grow. Sharia law prohibits practising Muslims from engaging in activities or transactions that are considered harmful to other people, society or the environment, and thus classes some investments (such as those relating to alcohol and gambling) as 'haram' (prohibited). As such, while Sharia-compliant investments appeal firstly to Muslim investors, they have also proved popular among consumers who wish to invest ethically.
Furthermore, as Islamic banks are prohibited from earning interest, they can only invest in tangible assets, and therefore avoid high-risk investments. For prudent investors, this minimal risk is a strong selling point, prompting a surge in Sharia-complaint investments in the GCC and beyond in recent years. In 2017, we can expect to see further growth in Islamic investments, as global economic uncertainty encourages investors to prioritise stability and risk management.
New markets
Over the past decade, Islamic finance has grown exponentially, largely due to the rapid economic growth of several Muslim-majority countries. The oil-rich GCC states have accrued enormous oil and gas revenues, and are now looking to invest this wealth in Sharia-compliant financial products. What's more, Islamic banks have also successfully expanded financial inclusion in many Muslim-majority nations, where a large portion of the population had previously been unbanked. Offering essential financial support to both individuals and SMEs, Islamic banks have come to dominate the financial landscape in many Muslim-majority countries.
Although the Islamic finance industry makes up just six percent of the global financial system, Sharia-compliant banks are rapidly gaining popularity outside the market of practising Muslims. Much like traditional banks, Islamic banks offer a wide range of financial products and services, from mortgages and loans to equity funds and bonds. However, the principles of Islamic banking are sometimes more attractive to consumers than those of conventional banking.
Islamic finance appeals to a broad range of consumers due to its reputation as being less prone to crisis. In a climate of global geopolitical and economic instability, Islamic finance offers a stable approach to banking. Islamic banks must refrain from engaging in activities that involve uncertainty or speculation. As such, Islamic finance is entirely asset-based, and is therefore fully collateralised. This also encourages better risk management by both banks and consumers, prompting both parties to be mutually responsible.
These risk management strategies have served Islamic banks well in the post-financial crash years. In 2010, an IMF report showed Islamic banking institutions had fared better than their conventional counterparts both during and after the global financial crisis of 2008. With smaller investment portfolios, lower leverage and no investments in risky, non-Sharia-compliant products, Islamic banks were able to effectively contain the fall-out from the crisis, avoiding an adverse impact on their profitability.
In June 2014, in response to an increased demand for Sharia-compliant financial products, the UK became the first non-Muslim country in the world to issue sukuk. Since then, Hong Kong, Luxembourg and South Africa have all followed suit, while the US now boasts 25 exclusively Islamic banks. As we look to 2017 and beyond, the demand for Islamic finance only looks set to grow.
The World Finance Islamic Finance Awards 2017 celebrate the most innovative players in this rapidly expanding market. For an insight into the industry's top performers, take a look at the winners of this year's awards.
World Finance Islamic Finance Awards 2017
Best Islamic Bank
Algeria
Al Salam Bank Algeria
Bahrain
Bahrain Islamic Bank
Indonesia
Bank Syariah Muamalat
Jordan
Jordan Islamic Bank
Kuwait
Kuwait International Bank
Lebanon
Arab Finance House
Malaysia
RHB Islamic Bank Berhad
Oman
Maisarah Islamic Banking Services
Pakistan
Meezan Bank
Qatar
Qatar International Islamic Bank
Saudi Arabia
Alawwal Bank
Turkey
Al Baraka Turk Participation Bank
UAE
Al Hilal Bank
UK
Al Rayan Bank
Global recognitions
Islamic Banking Chairman of the Year
Sheikh Mohammed Jarrah Al-Sabah
Chairman, Kuwait International Bank
Business Leadership and Outstanding Contribution to Islamic Finance
Musa Shihadeh
Vice Chairman and General Manager, Jordan Islamic Bank
Islamic Banker of the Year
Mohammad Nasr Abdeen
CEO, Union National Bank
Best M&A Advisory
KFH Capital Investment Company
Most Innovative Islamic Finance Solutions
Al Wifaq Finance Company
Best Socio-Economic Project Development
Islamic Development Bank
Best Sharia-Compliant Private Equity House
QInvest
Best Sukuk Deal
Maiden Sukuk by Warba Bank
Best Asset Management Company
Alkhabeer Capital
Best Takaful House
Al Rajhi Takaful
Best Islamic Banking and Finance IT Solutions
International Turnkey Systems
Copyright reserved 2017 – World Finance
https://goo.gl/tEiu1q